Timber in the City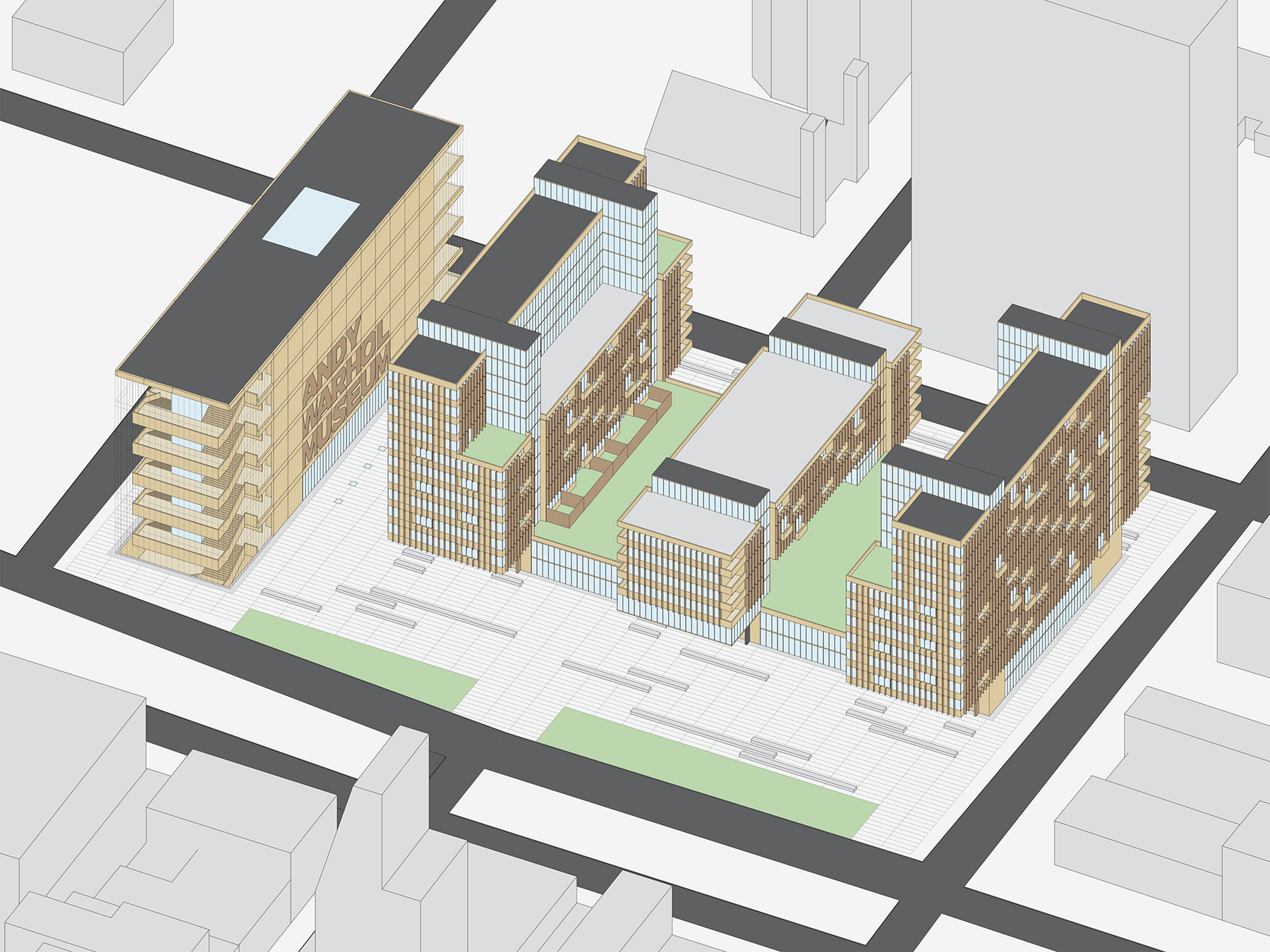 Timber in the City is a large multi-use project set in the lower-east side of Manhattan island with a marketplace, a residential complex, and an Andy Warhol art museum. To locate each program on the site, the question was asked: What does each program require?
The marketplace needs pedestrian traffic, so it is located on the busiest corner of the site at street level. The residential complex needs sunlight, and as such it is divided into a series of bars with gaps between them at the scale of a city street (which become shared spaces for the residents.) The residents also require security, so the living spaces are all located above street level. Lastly, the museum needs to be an iconic, and so a single grand staircase is located at the most prominent location of the site for all to see.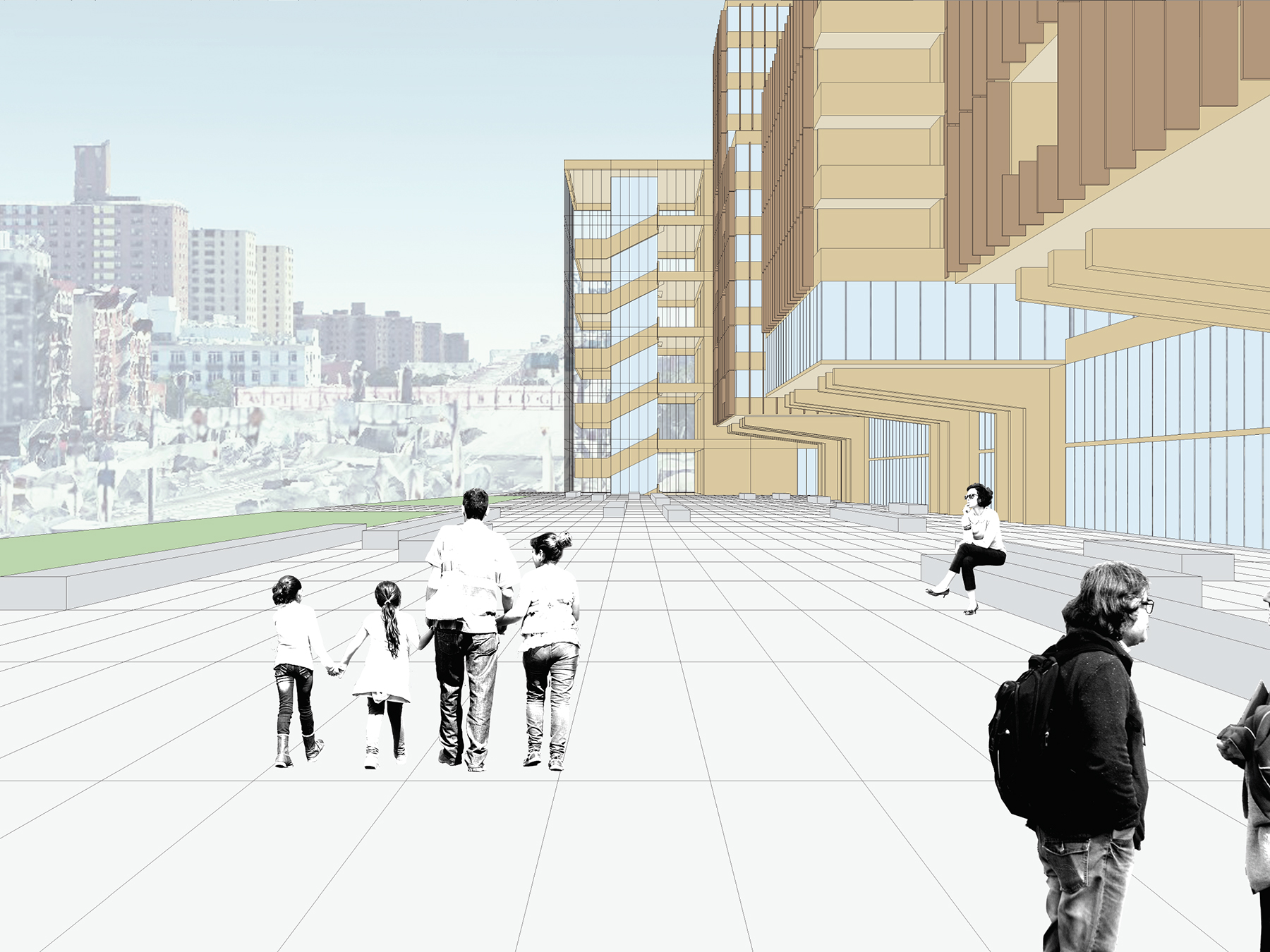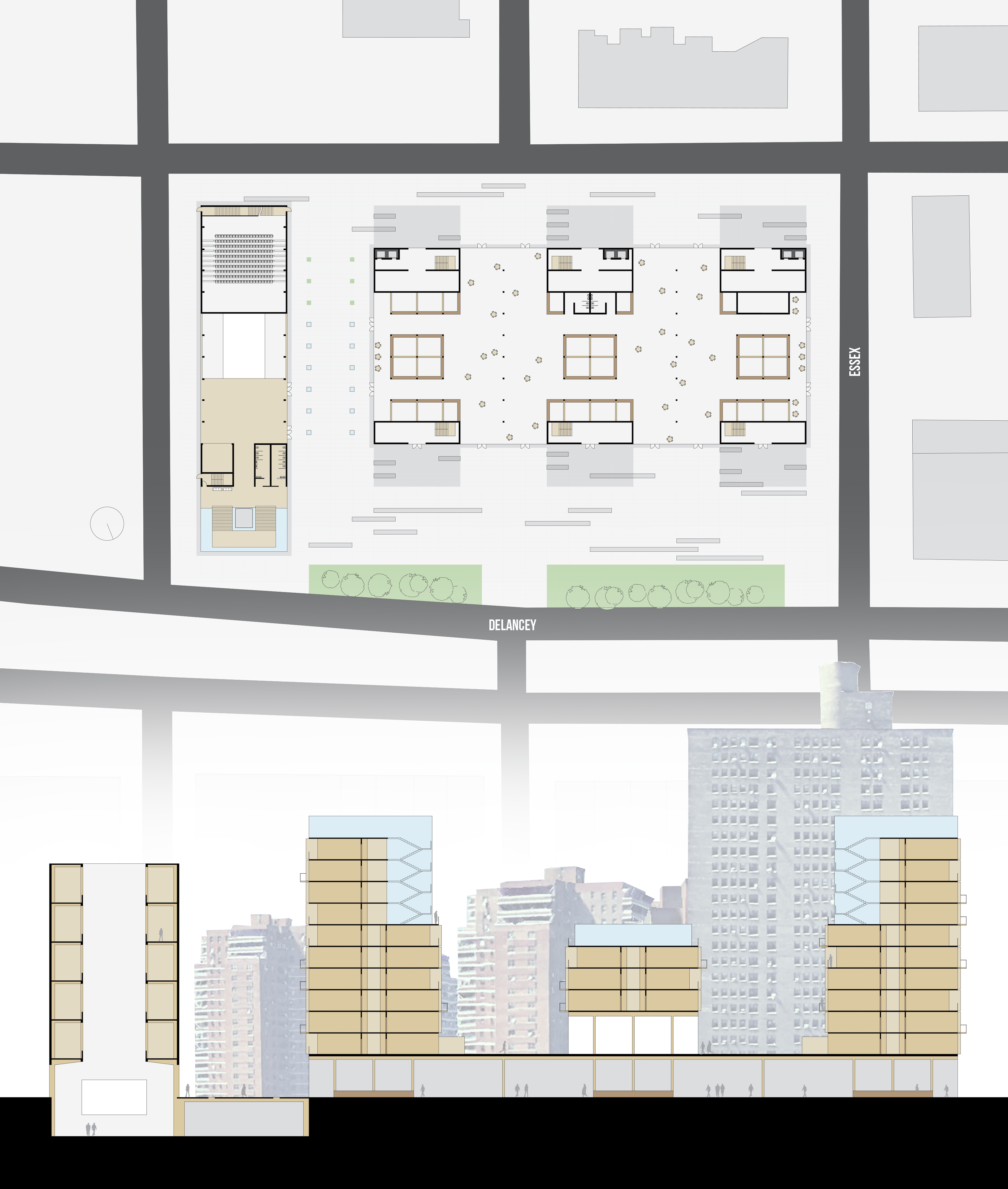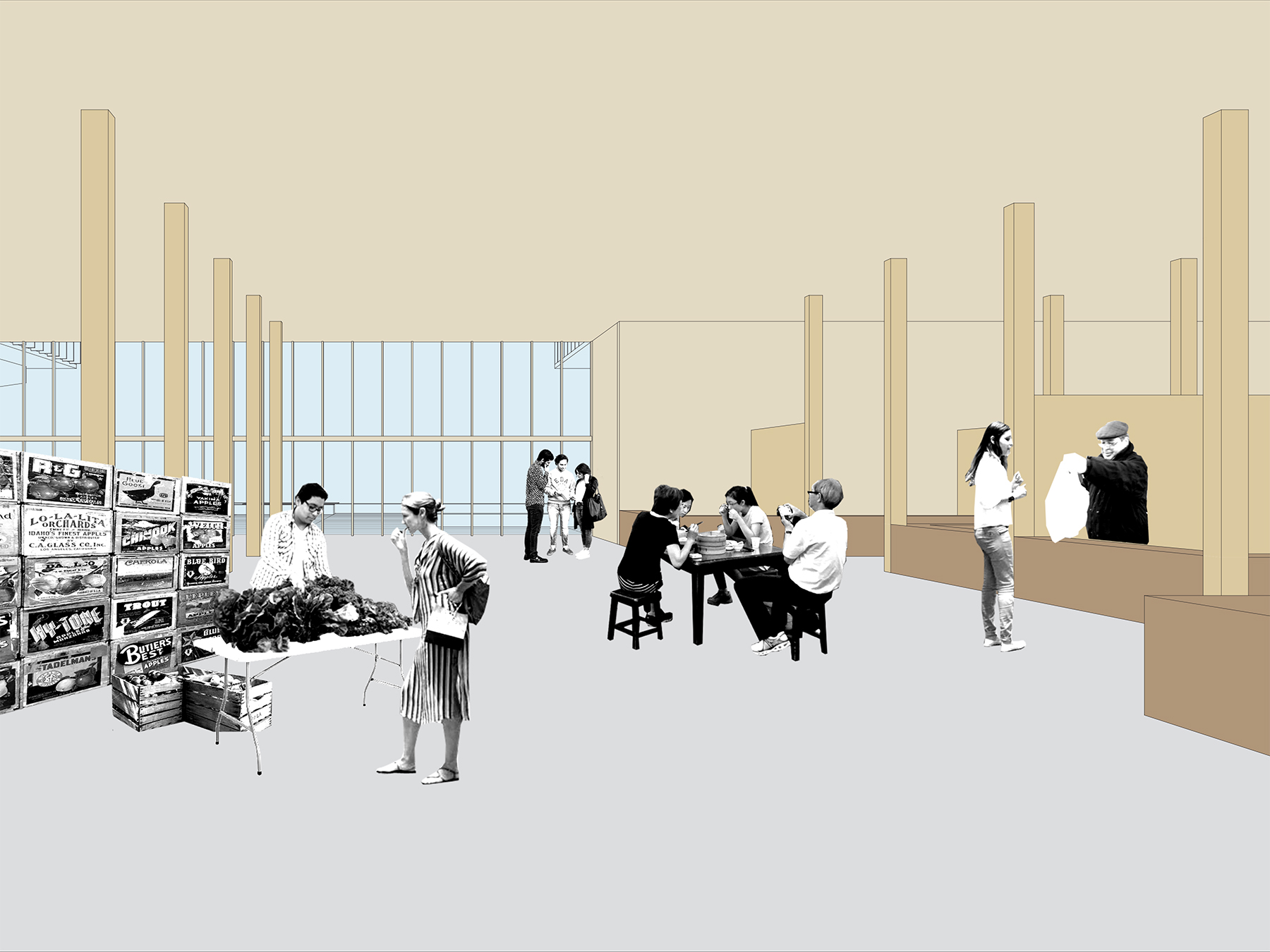 The residences are bars that run over the marketplace, connected to the ground at both ends with staircases that provide a panoramic view of the city surroundings, encouraging people to use the stairs instead of the elevator.
Apartment sizes ranging from micro (~350 SF) to 3-bed (~1000 SF) were fitted into a modular system that allowed a regular structural grid. Every 1-bed or larger apartment gets a balcony that opens directly into the living space, as do some micro apartments. All 2 and 3-bed apartments get corner views, and a select few also have private roof yards.
Between the three towers of apartments is a shared green space that runs underneath the middle bar. This shared space is also directly adjacent to laundry and indoor recreation. Apartments level with this shared space have small private outdoor areas instead of balconies.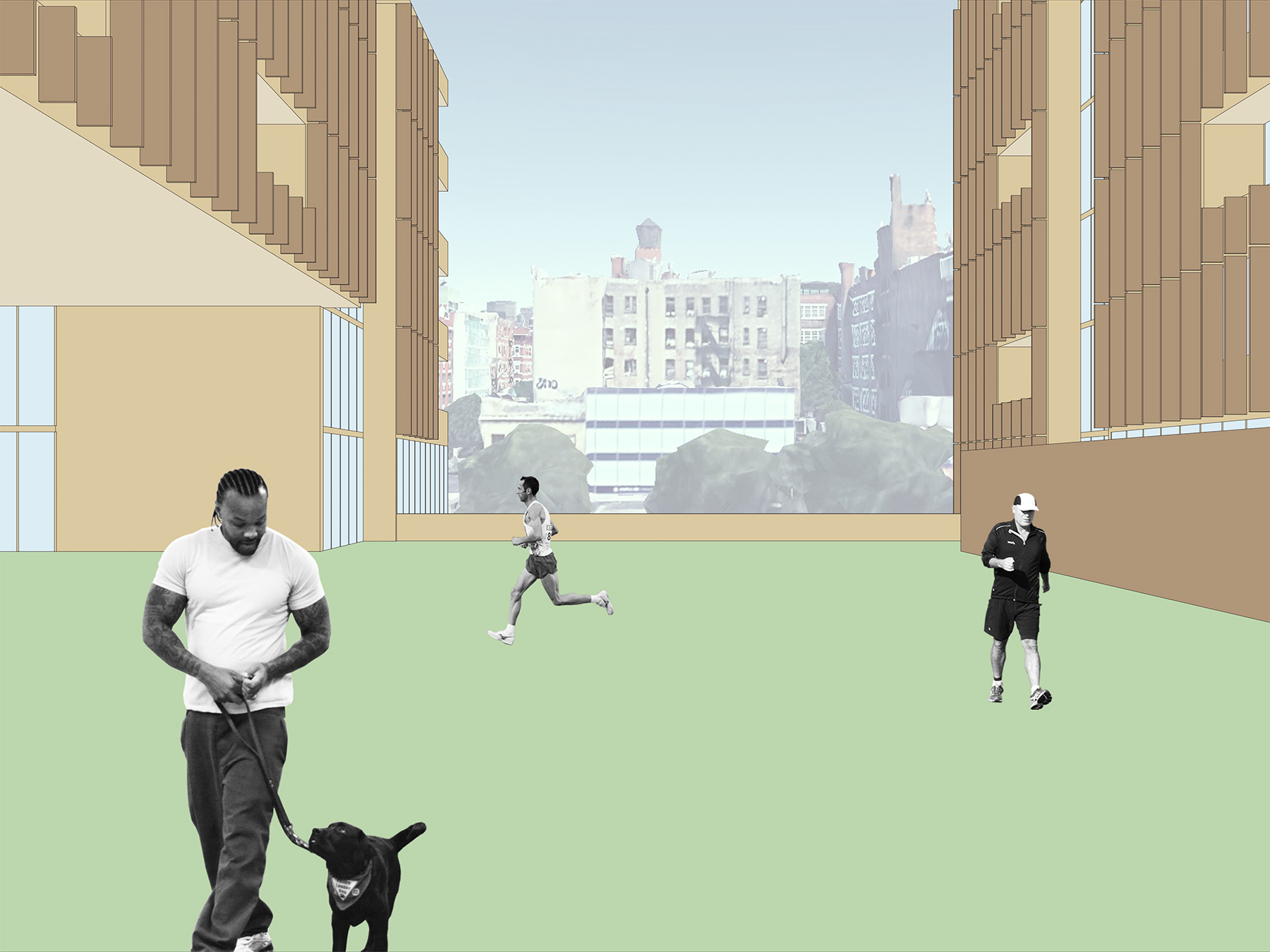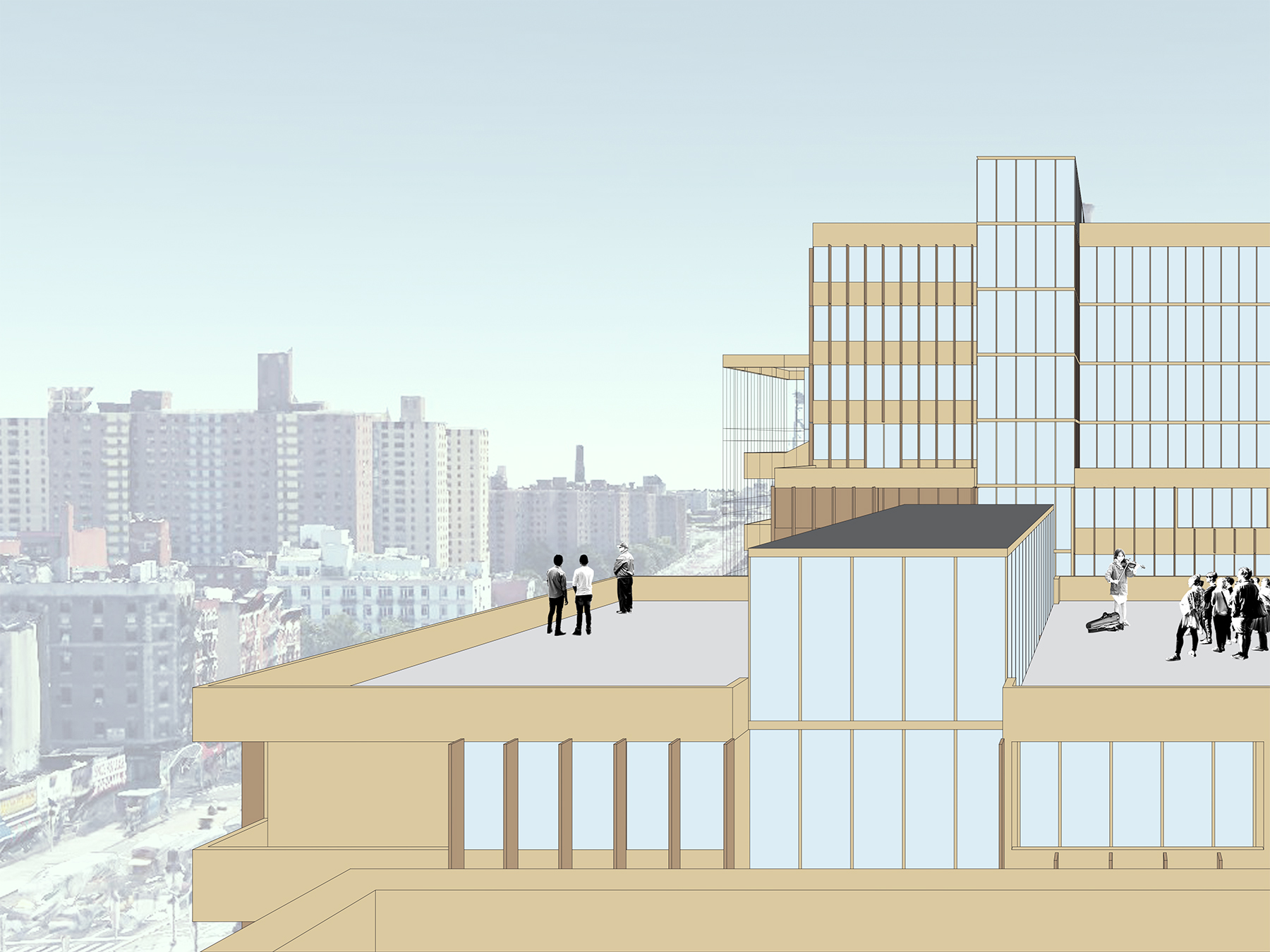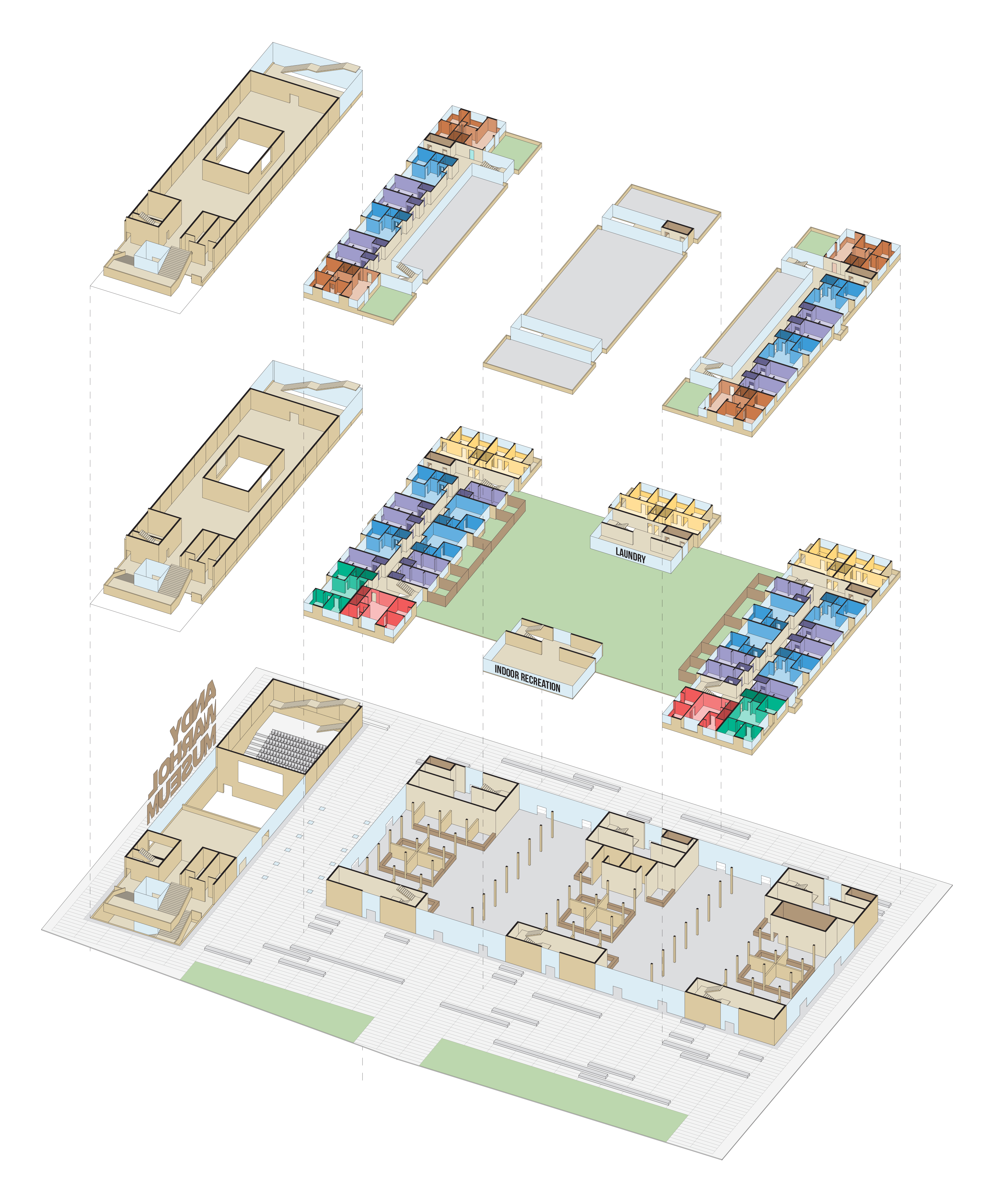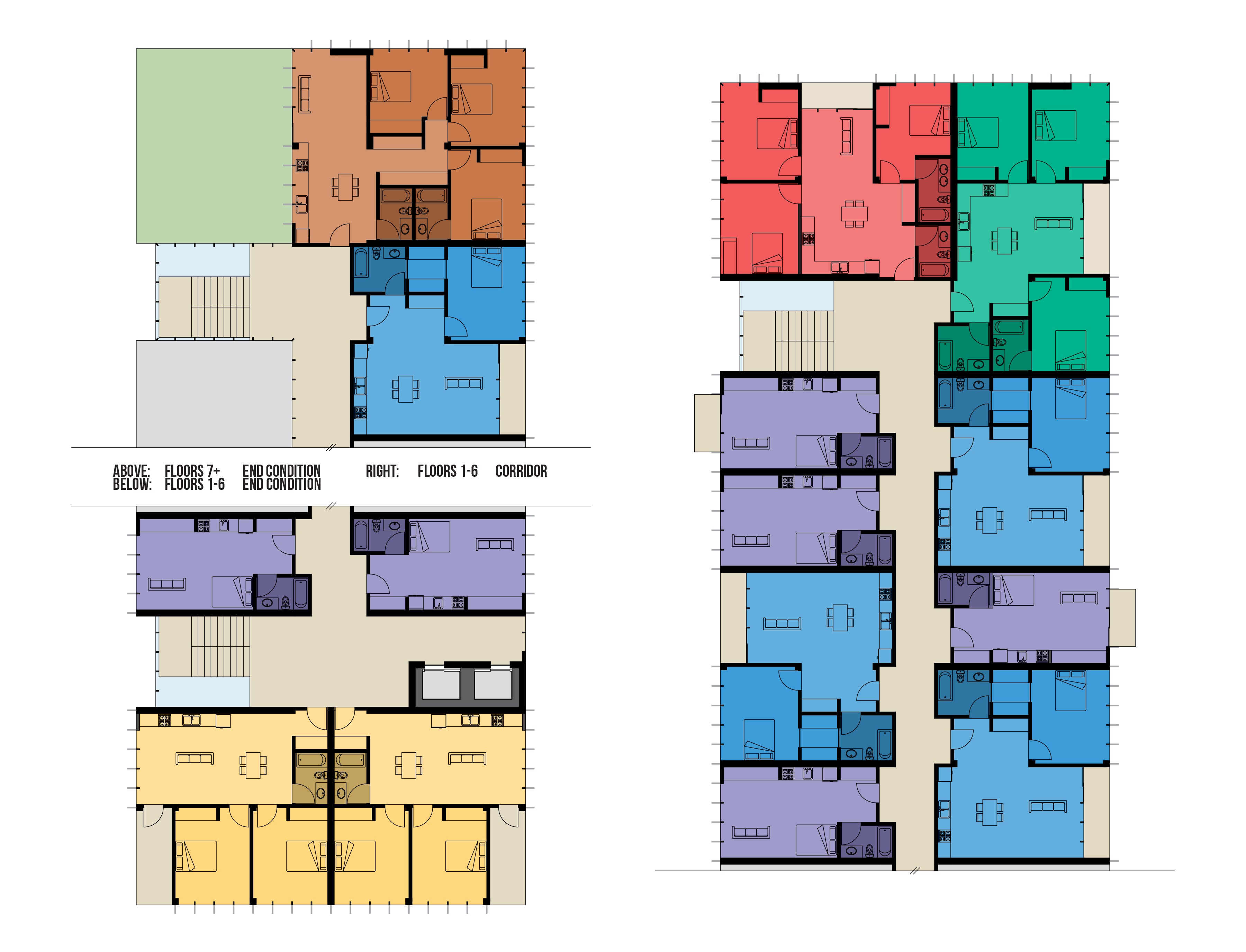 The museum is inspired by Louis Kahn's Yale Center for British Art, designed around two vertical elements; a central atrium and the northern "beacon" staircase. The atrium provides visitors visual relief from the exhibits and dictates a continuous circular flow through each floor, while the staircase at one end brings visitors from floor to floor, allowing for a linear way to explore the full museum.
The central atrium continues downwards into the entry of the museum, and down a floor into a large multi-function space. Films are projected onto the wall of this two-story space from behind for visitors to view from the lobby (Andy Warhol film work is, as advised by a reviewer, better viewed passively than intensively). Theatre seating behind the screen offers a more intimate film venue when necessary.
The projection wall can also be removed to turn the atrium into a theatrical space, where performers can be viewed from all angles. Finally, this open space can also be used as a gallery for local artists to display their work, who have a project space directly adjacent.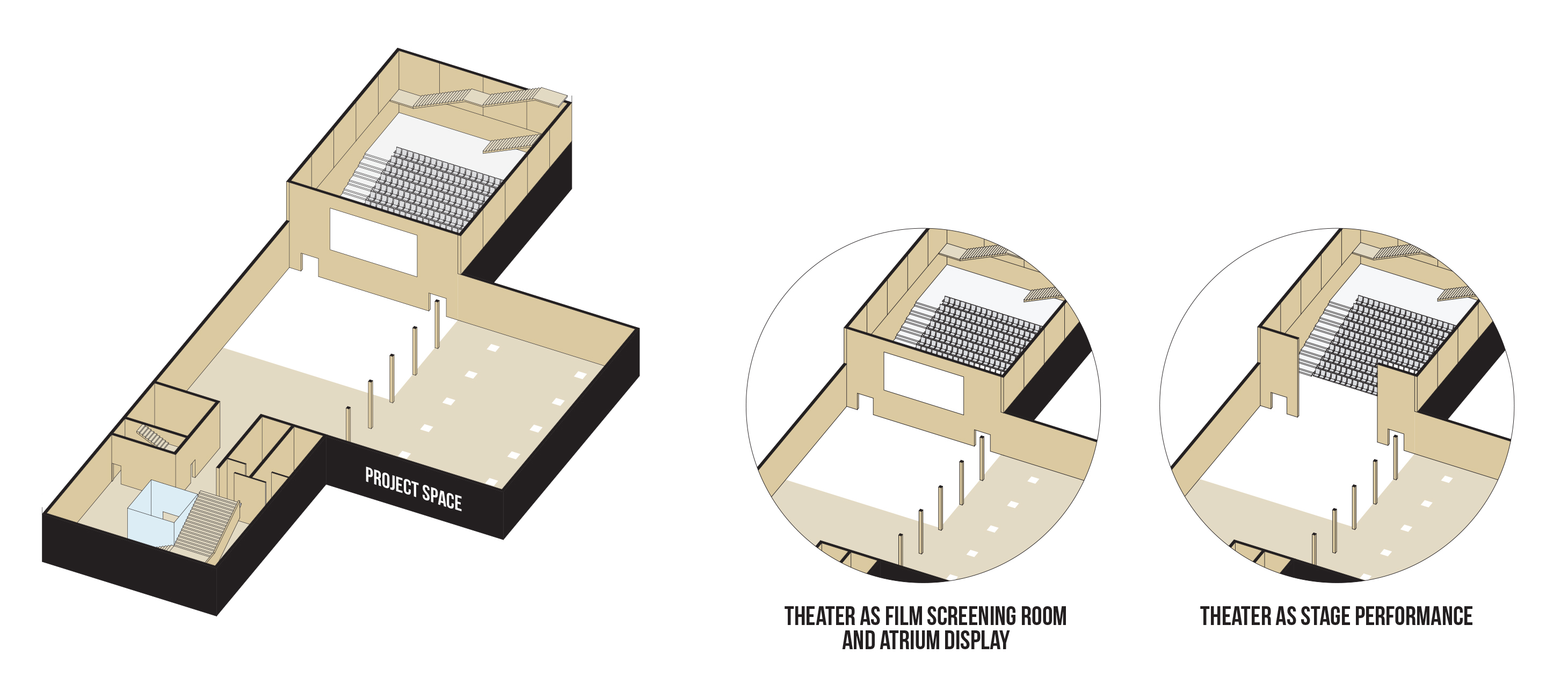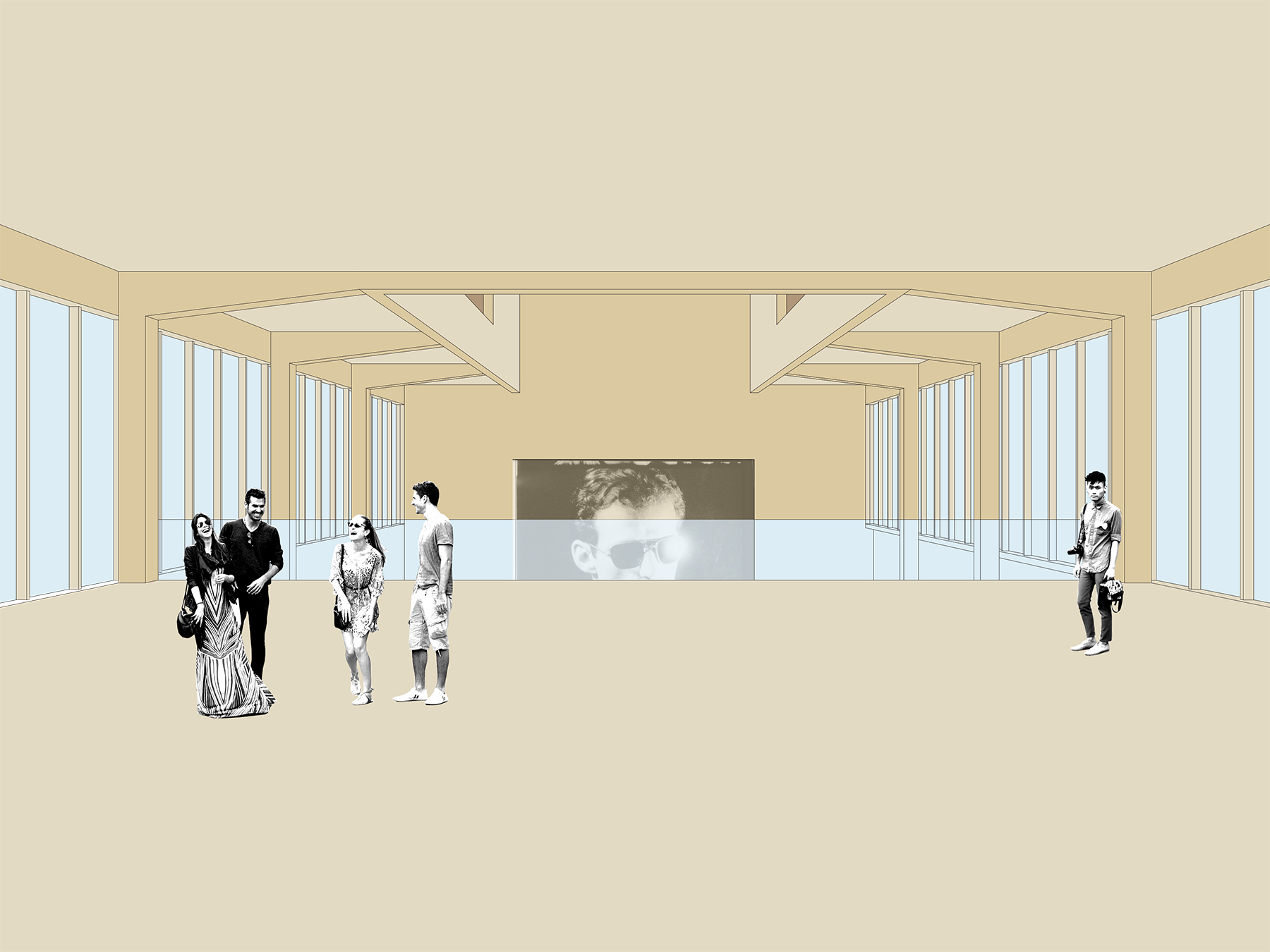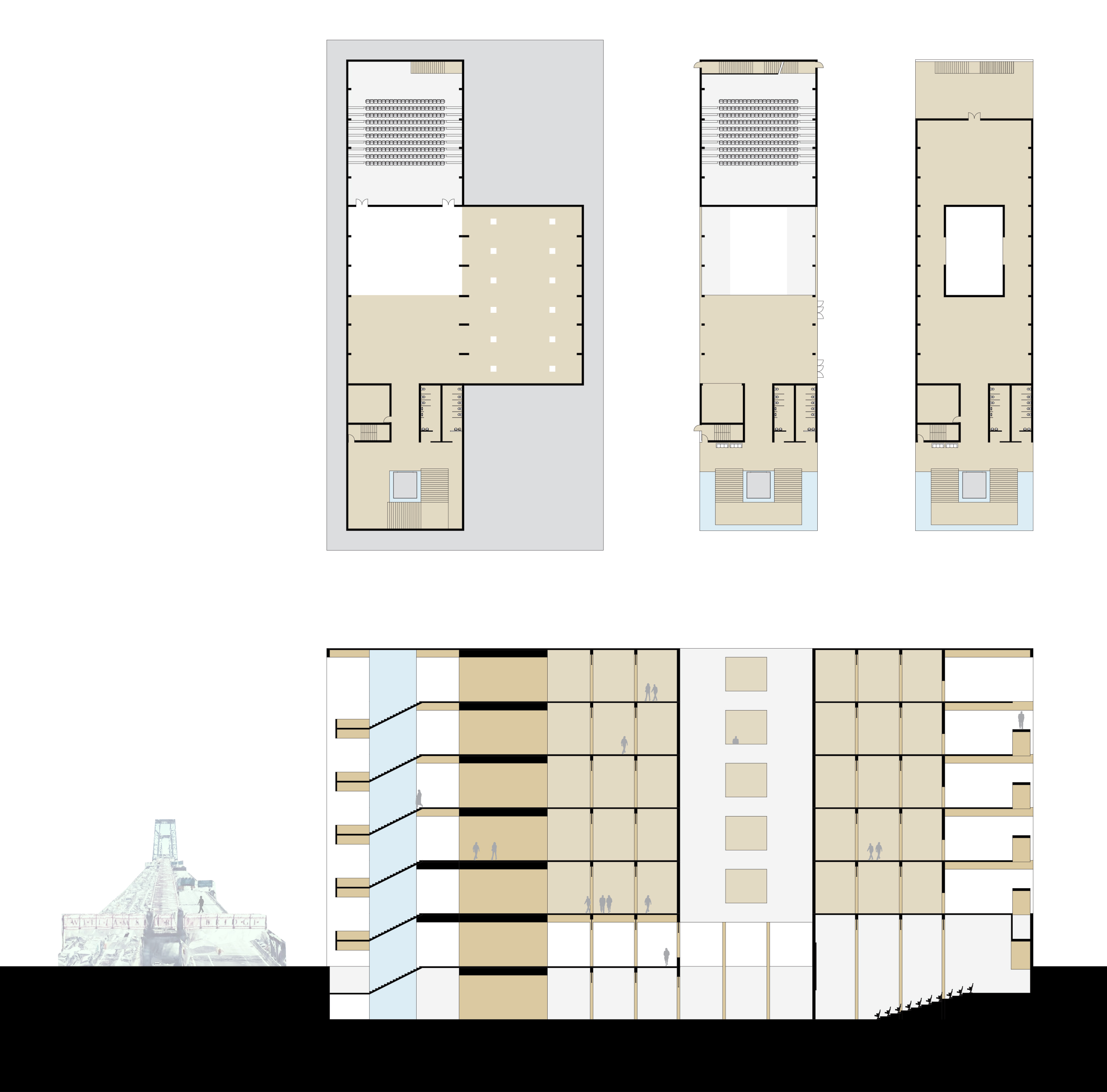 Timber in the City was a partner project with Michael McKinney. All final graphics are my own (Michael produced a physical model for the final presentation).